Nunca imaginé que pudiera existir un circo así.
Thus was the reaction of Joan Brossa, the Catalan visual poet, on seeing Circ Raluy: I never imagined there could be a circus like this. Brossa was no stranger to the theater arts, but the Circ Raluy made a deep impression.
Last week I shared pictures I took from my visit to Circ Raluy in February. I was lucky enough to attend the opening day of their run in my hometown, Tarragona.
Circ Raluy is not your usual circus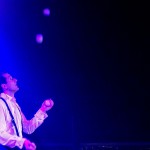 Wait, wait: what IS the usual circus? Circus involves a big top (often, but not always), performers carrying out acts of daring and skill, clowns that make you laugh, music and (sometimes, but increasingly less) trained animals also performing acts of skill.
Circ Raluy has most of those things. But, if there's one thing I've learned having gone to three circuses in the last year: no circus can be defined by the sum of its components.
So what's special about Circ Raluy?
It recognizes a lineage, a tradition of beauty, craft, and showmanship
Most "traditional" circuses do this implicitly, in their costumes, in the choice of recognizable acts, in the music, in the venue.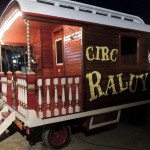 But Circ Raluy takes it further. The Raluy family collects caravans and carriages, which they not only restore painstakingly and faithfully, but they use them to live in, traveling slowly from city to city.
They are also a museum, a traveling circus museum. Their big top has velvet seats, carved wooden balustrades, and is painted in the style of a hundred years ago.
Like circuses of the past, they are an expeditionary circus, having traveled to four continents. In 2010 they completed a tour in La Réunion in the Indian Ocean.
They've won multiple awards, including the National Circus Prize in 1996, the Catalunya Prize in 1999, the Max Prize of 1999 (equivalent to the Tonys in the US), and the Creu de Sant Jordi (2006).
It's a family circus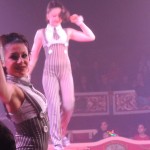 Of course, this is not unique.
The genes to perform in the circus have not been identified. Expression of such genes might include superior flexibility, strength, coordination, determination, desire to entertain. But top notch athletes or dancers have these traits as well.
Other expressions might include a certain restlessness, a desire to see the world, an inability to settle down, detachment from the accumulation of things that root one down in one place.
Circus performers don't just come from circus families. They are born into any country, social class, or profession you can imagine. But given the months on the road, the necessary hours of training, family dynasties hardly come as a surprise.
Circ Raluy is run by Carles Raluy. He and his brothers, their spouses, children, and grandchildren perform in the circus. Their father Lluis started the tradition. He traveled the world in, among other things, the first-ever two-person human cannonball act.
Not just for children, nor anonymous technical mastery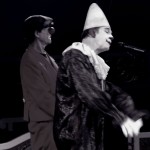 One form of circus emphasizes clowns performing slapstick gags and broad humor. Circ Raluy offers clown acts aimed at the younger set. And the kids love them. Of course, the flamenco piece with an elastic guitar had most adults laughing till they cried.
Another form of circus is an elaborate choreography of anonymous performers carrying out apparently-impossible feats. These "modern" circuses cultivate a polished esthetic. Circ Raluy has jaw-dropping acts as well, like when Akhmed Surkhatilov squeezes into a small box that is then put underwater- for several minutes. In his laser show Jean-Christophe de Beauchamp plays with beams of light and fog as if painting in the air.
The mystique of the circus
In circuses, people come from the furthest corners of the world and others are related by blood. New shows are crafted every year and performers are skilled in multiple disciplines (like Emily and Niedzela Swider Raluy who ride impossibly tall unicycles and walk on the tightwire). New technologies are incorporated while old traditions are acknowledged.
The style of Circ Raluy has not only inspired poets, but photographers and film-makers. It's the setting of George Michael's music video for Let her down easy and that of El Simi accepta by Le Croupier, each highlighting different aspects of the beauty of the circus.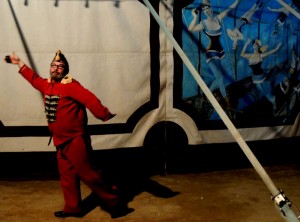 Yes, there's something special about Circ Raluy
They embody all the things that make a circus a circus. But it's not just that.
Everyone- performers, ushers, musicians, vendors of tickets and popcorn- looks like they're having fun. That they love their work, they love their lives.
That they love their circus.
At the end of the day, this love for what they're doing, be it larger than life or the day-to-day, is something everyone in the audience wants to take home with them.
Thank you, Circ Raluy.