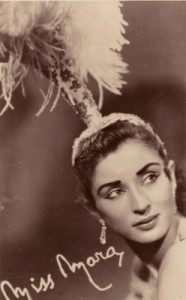 I want to die on the trapeze.
La Mara has left us. María Papadopoulos Vaquero, the Spanish aerialist who electrified the circus world for four decades with her trapeze act, passed away on December 14 due to complications following back surgery. The opening line of a poem her brother Enrique dedicated to her is quoted above.
Born in the early thirties, she was recruited by Ringling Bros and Barnum and Bailey circus in 1951. As she said to the newspaper El País:
Goddesses shouldn't age and on the trapeze I was a goddess.
Born inside a dressing room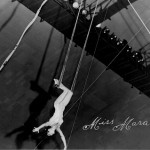 Though her father came from a circus family of Greek and Romanian origin, her parents initially tried to keep her away from the circus. But it was to no avail. Since her first act at the age of five, Mara was drawn to performing at great height.
The eldest of eight siblings, she was their matriarch, with the closeness that is so common among Spanish families of that generation. Her wirewalker brother Tonito, also a recipient of Spain's National Circus Prize, accompanied her to the US when she moved there.
Heel catches on a swinging trapeze
© Elliot Fenander, in the Collection of Shelburne Museum
Mara's solo act was novel for the time as it took place on a swinging trapeze. She developed several unique moves. In one, her calves slid along the trapeze until catching herself by the heels. The other involved balancing from the back of her neck. She always performed without a net or any other safety device.
When asked about fear, she didn't mince words.
Fear costs nothing. Each of us chooses the dose we want to take.
Readily acknowledging the danger of working at height, Mara noted the parallel to the quandary of a bullfighter: you triumph or you die.
Every night, she dreamt of slipping
Mara's first serious fall in 1948 resulted in a broken hip. In Tacoma WA in 1953, she fell fourteen meters to the concrete floor of the ring, suffering fractures in her right leg, left arm, and three lumbar vertebrae. Two pins were inserted in her ankle. After seven surgeries, the doctors believed that with hard work and luck, she might walk again.
In March 1955 Mara performed in front of 18,000 spectators in Madison Square Garden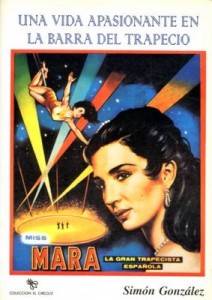 Although Mara and her siblings owned various circuses over the years, her greatest successes were on the trapeze. She received many awards, including  the International Circus Oscar in 1966, the Press Award in the III Montecarlo Festival in 1976, the National Circus Award of Spain in 1992, and the Gold Medal for Merit in Fine Arts in 2007. She performed for Sinatra and Hemingway and was perhaps the most internationally renown trapeze artist of Spain.
Watch her yourself
This six-minute video took my breath away. I dare you to remain indifferent. Sure, the flamboyant headdress, the swan-bedecked chariot, the makeup, the music may seem quaint to the Cirque du Soleil generation, but Mara's courage and skill, strength and precision, are timeless.
Mara was a star, in a time and a place where women weren't encouraged to stand out. Her triumphs were hard won- with exemplary grace.
Mara has left us, but in our memory she will continue to fly, to a standing ovation.